Its quite a long time i haven't write anything here... its not because i don't have time. The reason why is because i don't have any idea on what to write down, plus i don't have camera for my own. Pity me...
We are very close to the new year. I'm totally excited as well as I can say my 2009 was a mix... all bad feeling, good feeling added together. First six months was a terrible moment as I was trying to adapt with my new environment in Kuching... woke up early, drive for 20 minutes every morning instead of walking for 5 minutes when i was in Sarikei. Work more than 12 hours per day... no weekends was quite miserable... and my night ended with a lonely feeling but i thanks God always there by my side, fulfill the joy in my heart.
May this year I met LTL, my precious one... We met at Bukit Jalil National Stadium during the state athletics's meet. We both busy with our own work and don't have much time to talk with each others. But a night before we went back to Sarawak he asked for my hand phone numbers...But we haven't started yet... We just went out once (during the meet together with others coaches), what do I expect from that...
Yup.... we did sms for few times during our very-very free time. Sometimes I totally forgot about him. In my mind, he's just one of my coach friend and we might meet again next time. Furthermore, he might be someone's special, so...what do you think??? Aku bukan perampas... hehehe...
Then, after Gawai... I was sent to Bukit Jalil again for Little Athletics's together with 8 athletes from Sarawak whom represent Malaysia. One of them is his athlete. The night during arriving he sent me a message, followed by another messages (of course i replied la).... lalala... happy moment started here... wink wink... After we did some serious discussion eg the distance, age, origin etc... we agreed to try (we started with a trial relationship)... gosh....
July, I can't really felt that we are in love. We just met once and the rest just sms or phone call and we have language barrier some more... So, I make a plan which my friends describe as crazy. I fly to Miri to met him for the second time but now as his girlfriend. Everyone who knows the plan was so worried and they keep on sms me when I was with him. Hehehe.... Everybody loves Gracie....
I just cant believe that our love grow so fast... hahaha.... i spend two days in Miri and he sent me to Sarikei and meet my parent. Of course both my mum and dad quite surprise with me bringing someone back without any clues... kehkehkeh...
Now, we belong to each other, no turning back but looking for a brighter future a head. He's crazy and he drives me crazy. We speak Chinese-Malay language. Sometimes no one can understand except us which is good. He always shows me a good sign of being a lovely husband and father. I trust him although sometimes he hits 140km/hour on the road. No ice cream, more water, more vege, he keeps on reminding me everyday... I eat healthy food when i'm with him (only)... huhuhu...
O dear *sigh*... what a drastic change in my life but I'm so happy with it. But, sometimes I just felt that it was a dream. We both studied in Miri, using the same road, Bakam Road as he studied in Chung Hua and i'm from SM Sains . Maybe we already met each other during the sports meet, inside the bus or some where else in Miri... who knows. We have a very different life after we finish school which i felt we will never meet each other unless i go to buy something from him but a slim chance la because he's in Miri, what can I buy from him?
He just started as a part time coach when we first met. I do believe that this is God's plan... or else our path will never cross...
Still dreaming??? Nope... hehehehe...
So introducing my one and only... Lim Teck Leong....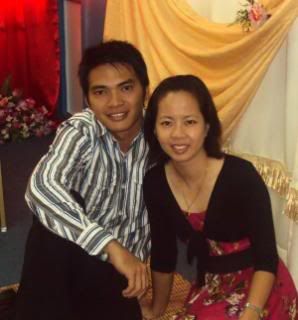 Love Never Fails...