I'm back to Pakan this evening. Hope to see u guys around this coming weekend. Feel free to leave messages or email me.
Gawai visiting is over for me starting from yesterday I guess. I did visit my neighbour's house yesterday and drink 5ml tuak finally. That's my first tuak for this Gawai. hehehehe... ngeh.... Our open house also ended this morning since everyone in the house will start to work tomorrow except Fred.
Less photos taken during this Gawai. I need something different perhaps.... Anyway, on the 4th June I attended my friend's wedding reception. Pak Akub and Kak Pah, my colleagues had move to their new home. I'm happy for both of them and wish them a happy, sweet, peaceful journey a head.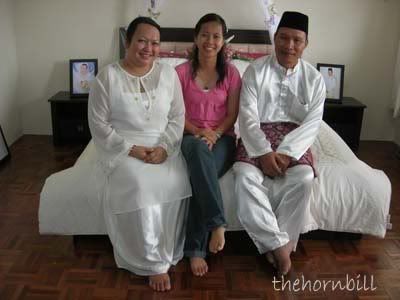 In the evening after visiting Chris Apai and Cuthess Meow's house we (Chris, Cath, Sula and I) went to my place. I was about to stop at Jakar Shell...damn it. That evening the fuel price increases a LOOOOOOOOTTTTTT!!!! Anyway... lantak engkau la sana...
I hope Chris, Cath and Sula will share the stories as I'm toooo lazy to write more here. To make the story short... that evening was fun and fun and fun...
I bought 2kg rice today and it cost me RM11.00. I'm sad and frustrated with what happen now. I just dont know what to say... if all of this prices (fuel, rice, cooking oil etc etc) affected my monthly budget, I'm thinking what will happen to them? The poor, single mother, my aunty, my relatives, my longhouse peoples? Should we blame the government? I dont know what really happen out there... the only thing I know is I should make extra money.... Will update about this next week... chow!!!
*Bad English.... hehehehe... baca jak sia....