I didnt go to church this morning. Church service start at 8.30am and I woke up around 9am. Feel bad also...
I follow my mum and dad to town. Want to buy Science reference book for my students at Anthonian Book Store (my brother wrote in his blog Pejalai... everyone will buy their reference book at this store... true lah!!! )
Accompany my mum to buy some vegetables... fruits... etc etc at Tamu Nyelong. Meet my relatives from my mum and dad side, my friends, my colleagues, my church members... lot of them. 10 steps... eh.. Aunty X. Another 15 steps... hai Uncle Y. Another 20 steps... hello Miss Z... wah... so many friends and relatives here.
Tomorrow.......Monday blues Monday black Monday grey for sure.
Some pics to colour my blogs since its look dull without colourful pics...
My bro's new Levi's cost my dad Rm2xx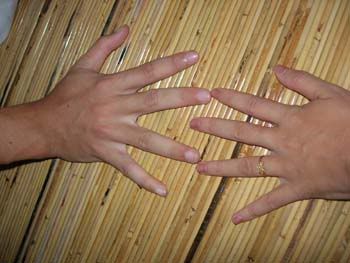 XX and XY fingers
Give me a kiss...