Yuhu... How's your weekend? I sent my lil sis to her music class this morning. Then I went lepak-lepak while waiting for her... and as usual... I met lot of friends and relatives especially at the Tamu Nyelong...
10:15am lil sis finished her class. Both of us went to one coffee shop near the Tamu (
Fred
likes the kolo mee here very much).
The conversation between lil sis and the coffeeshop girl...
CS Girl :
Minum apa?
Lil sis :
Fresh barley ada?

CS girl :
Tidak ada
Lil sis :
Wheatgrass?
CS girl :
Ada
Lil sis : Ba
gi saya air cincau
CS girl
: sabar jak aku (dalam hati)
Me :
Why dont you just ask for air cincau?
Lil sis
:
Hehehe....
Well, this is what I had for my breakfast this morning....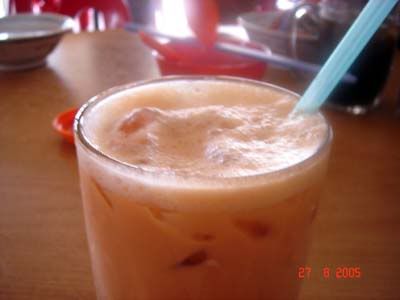 Teh-C Peng.... (tea + milk + ice cube)
Kolo Mee which cost me RM2.20 (Not sure this one considered as expensive or cheap but the taste ... yummy!!!)
I spent RM 7.20 for 2 kolo mee, 1 teh-C peng and 1 cincau this morning. Okay... that's all... enjoy your weekend... ta.. ta..